In 2019 thirty percent of food product recalls were attributed to foreign objects being found. Disposable gloves are a requirement for almost every employee on a food production line. Typically, latex or vinyl gloves are prone to breaking or tearing, meaning that it could be very easy for a small piece of a broken glove to end up in the product. Such accidents can result in huge financial and reputational costs to manufacturers.
The Supertouch Solution
Introducing the new Metalman® Metal-Detectable Disposable Nitrile Gloves. Each glove has the sensitivity of an Iron (FE) Ball with a diameter of 0.5mm, meaning that it can be picked up by the metal detectors on food production lines. As a result, these gloves can help to reduce costly product recalls.
Download Spec Sheet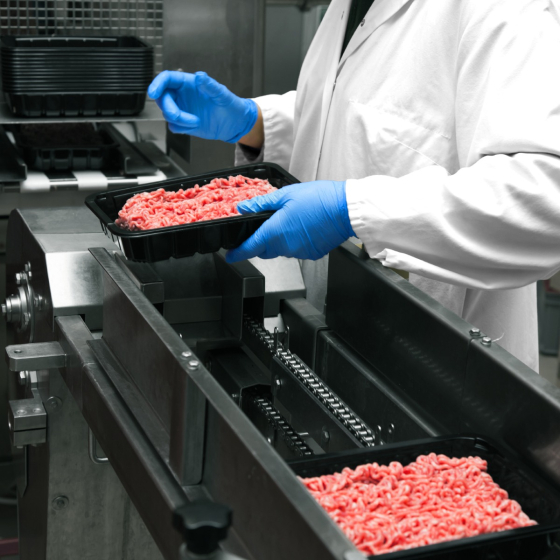 Why MetalMan?
Using detectable PPE is nothing new in the food industry and this practice has helped to reduce indecent rates. What makes Metalman® gloves different from those already available on the market is that they are Nitrile, meaning that they are more robust and less likely to break than vinyl or latex alternatives. So in addition to catching foreign objects on the production line, Metalman® gloves also reduce the likelihood of breakage and therefore the cost of line downtime.
View Product

Product Details
MetalMan® Powder-free Nitrile Gloves are metal detectable, making them an ideal choice for food processing. Easily identified by metal detectors, these gloves can reduce costly product recalls on food production liners. Made from a tough nitrile formulation, MetalMan® gloves are robust and less likely to break than their detectable vinyl alternatives. This durable offering also features textured fingertips on the blue side, enhancing dexterity for the users.
Metal Detectable:

Each glove has the sensitivity of an Iron [Fe] Ball
with a diameter of 0.5mm

Type B Chemical Resistant:

Adheres to European Standard
EN ISO 374-1:2016

Powder-Free:

Minimises particulate contamination

Latex-Free:

Ideal for allergy sufferers

Nitrile Formulation:

Tougher than vinyl & latex

Beaded Cuff:

Prevents liquid rollback

CAT III

Weight: 5.5g
---
Product Conformity
EN ISO 374-5:2016

Protection against Bacteria, Fungi & Viruses

EN ISO 374-1:2016 / Type B

Protective gloves against dangerous chemicals
and micro-organisms
---
To discuss your requirements and to request a sample, please contact us: